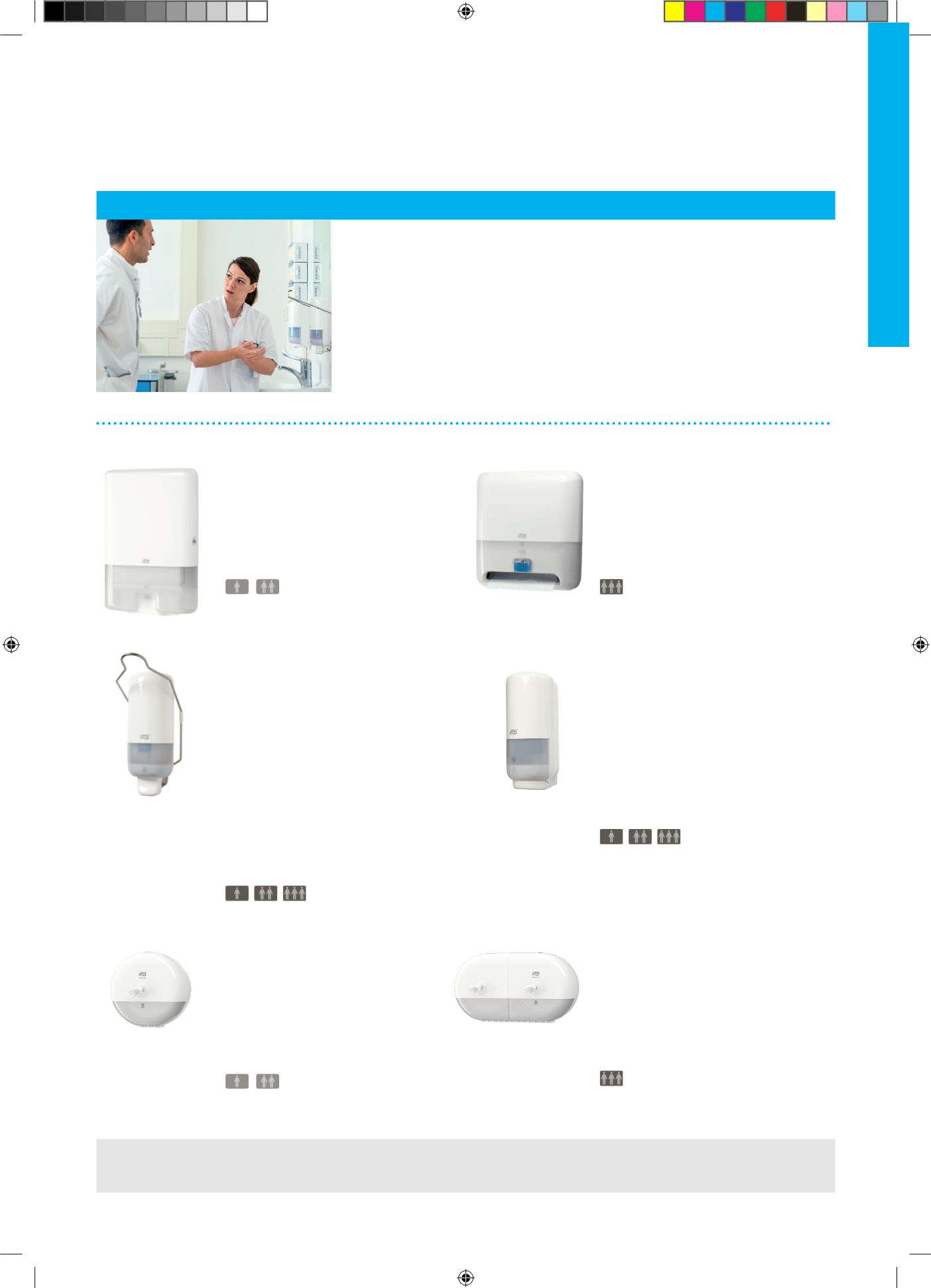 13
Washroom
Hygiene critical washrooms
Pick these products to meet the demands of strict regulations.
Reduce the risk of cross-contamination whilst offering effective
and skin-friendly cleaning to your colleagues.
Complementary products:
Mini Liquid Soap Dispenser (S2), page 30; Hand and Body Lotion refill (S2), page 31; Waste Bin 50 l (B1), Bin
Liner 50 l (B1), page 28.
Tork Elevation line
Tork Xpress
®
Multifold Hand Towel
Dispenser (H2) Art no: 552000
High gloss surface design, for an easy-to-
clean hygienic dispenser
Refill: Premium – Tork Xpress
®
Extra Soft Multifold
Hand Towel Art no: 100297
Tork Matic
®
Hand Towel Roll Dispenser –
with Intuition™ Sensor (H1) Art no: 551100
Touch-free sensor – towel is protected inside
dispenser until use
Refill: Premium – Tork Matic
®
Soft Hand Towel Roll Art no:
290016
Tork Foam Soap Dispenser – with Intuition™
Sensor (S4) Art no: 561600
Touch-free, sensor-operated dispenser
to minimize cross-contamination
Refill: Premium – Tork Antimicrobial Foam Soap
Art no: 520801
Combines hand washing and sanitizing,
for hygiene demanding areas
Skin friendly and EN1499 approved
Biocide product: needs to be registered locally
Tork Liquid Soap Dispenser
– Arm Lever (S1) Art no: 560100
Arm lever to prevent cross-contamination
and single-use pump with no risk of cross-contamination when refilling
Refill: Premium – Tork Alcohol Gel Hand Sanitizer
Art no: 420101
Disinfects hands quickly – for frequent,
waterless hand sanitizing
EN1500 approved
Biocide product: needs to be registered locally
Premium – Tork Extra Hygiene Liquid Soap Art no: 420810
EN 1040 approved
Extra hygienic hand wash – minimizes the risk of cross-
contamination
Tork SmartOne
®
Mini Toilet Roll
Dispenser (T9) Art no: 681000
Roll fully protected, only touch the
sheet you use
Refill: Advanced – Tork SmartOne
®
Mini
Toilet Roll Art no: 472193
Also available in black
Tork SmartOne
®
Mini Twin Toilet
Roll Dispenser (T9) Art no: 682000
Sheet-by-sheet dispensing – reduces
consumption by up to 40%
Refill: Advanced – Tork SmartOne
®
Mini
Toilet Roll Art no: 472193
Also available in black
Tork_Product_Catalogue_2016_east ENG_bizt.indd 13
18/01/16 14:38