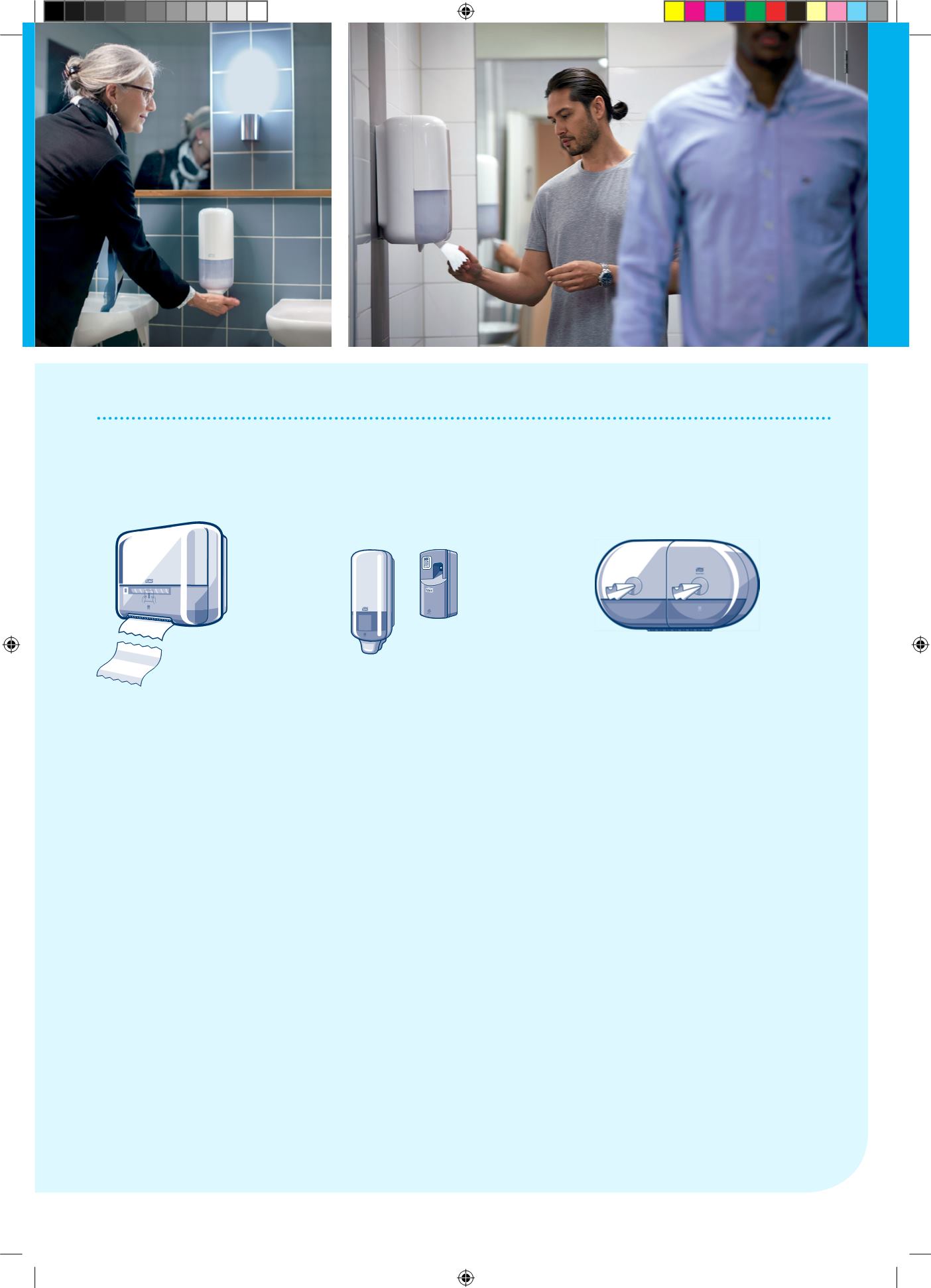 9
Hand drying
We offer a complete range of
dispensers and refills: from functional
options for basic washrooms,
to high-capacity systems for
demanding environments.
- A broad selection of roll and
folded towels
- Different paper to suit your needs
(Premium hand towels are extra
soft and offer best absorption, while
our Universal range provides good
everyday value)
- Ways to reduce waste and cost –
like single sheet dispensing
Skincare and aircare
Our soaps, lotions, and sanitizers are
carefully developed to meet hygiene
requirements, in any environment,
while caring for skin.
- Most products meet EU Ecolabel
standards for environmental care
and comply with the most stringent
regulations and certifications
- Our soaps come in different formats
to suit every situation – foams,
liquids, and sprays
- Welcome your guests to an always-
fresh washroom with our aircare
systems, available in spray or tabs
and in a wide range of fragrances.
Toilet paper
Our toilet paper systems offer
convenience, style, and functionality,
whether your washroom is big and
busy, or small and stylish.
- Clever designs to reduce costs and
consumption (like high-capacity rolls
with single sheet dispensing, that
reduce consumption by 40%)
- High-capacity systems to make sure
you don't run out of toilet paper
- A wide selection of toilet paper refills
and dispensers in various systems
What we offer
Whatever business you're in, our high-quality washroom
range helps you make the right impression while caring for
your customers and colleagues.
We also offer complementary products such as facial tissue,
waste bins, sanitary bag holders, and toilet seat cleaners.
Tork_Product_Catalogue_2016_east ENG_bizt.indd 9
18/01/16 14:38