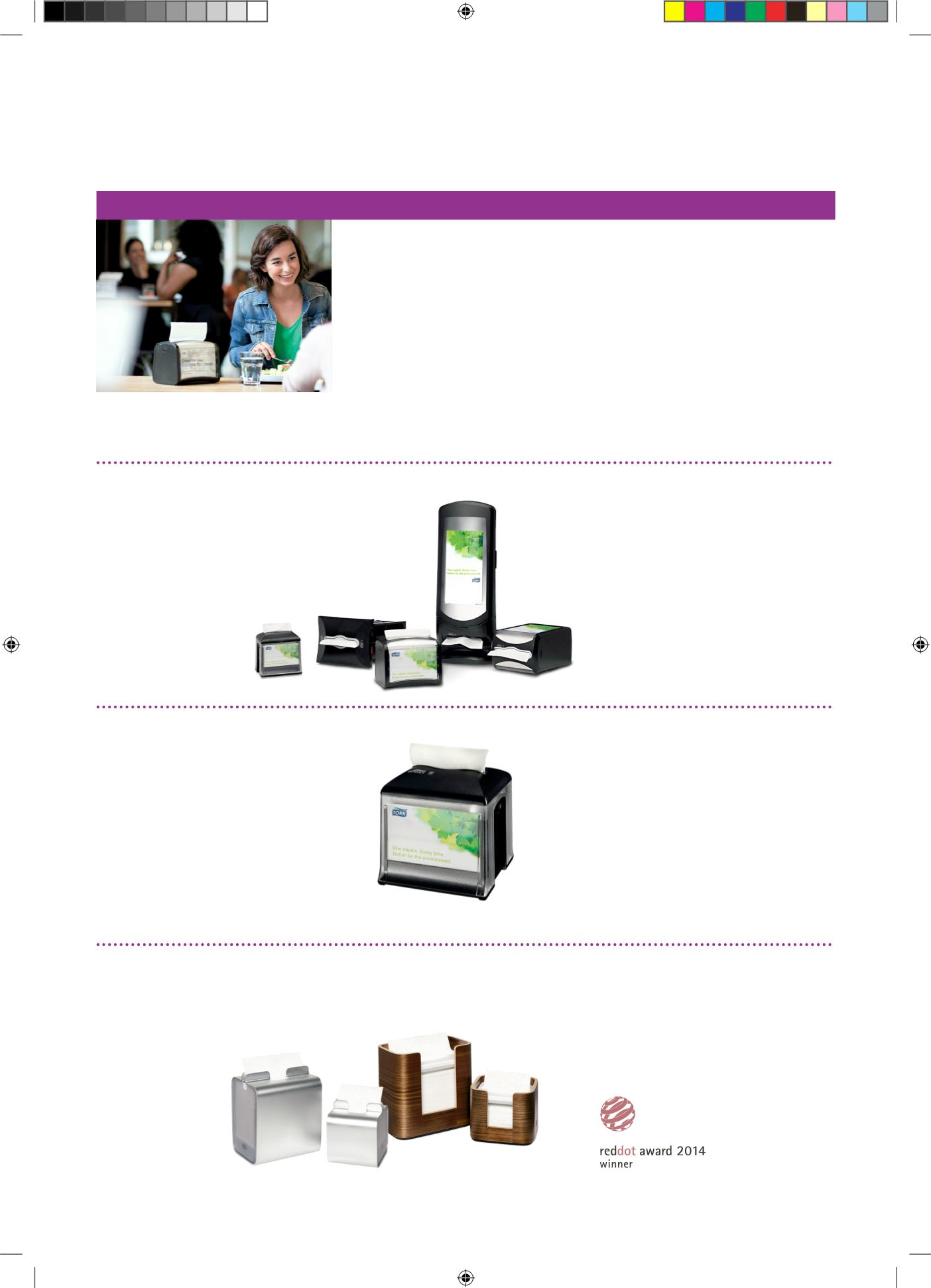 68
Tabletop
Product recommendations
A smarter, better value choice
To deliver swifter, smoother service, you need everything
at hand. We designed our Tork Xpressnap
®
range based
on keeping queues and waste down, wherever you want
to offer your customers napkins. And now with our new
Tork Xpressnap
®
Image options, you can be sure our
dispensers will fit right in with your service style.
Tork Xpressnap
®
Image Napkin
Dispensing System
- Genuine aluminum or wood finish
- Fit for meal or snack occasions
- One-at-a-time dispensing reduces napkin
usage by at least 25%*
Fast food/buffet
Control consumption and avoid
mess and waste with one-at-a-time
napkin dispensing.
Café
When space is limited and you want
to provide your customers with
napkins that are easy to reach.
Image conscious self-service
Dispensers perfect when you want to
make a design statement.
Tork Xpressnap
®
Napkin Dispenser range
- Reduces napkin usage by at least 25%
compared to traditional napkin dispensers
- Ideal for tables and crowded counters
- Advertising capability with
AD-a-Glance window
Tork Xpressnap Snack
®
Tabletop Napkin Dispenser
-
When a smaller napkin is enough
-
Ideal for use at small tables thanks to its
minimal footprint
- Advertising capability with
AD-a-Glance window
Self-service
*compared to traditional napkin dispensers
Tork_Product_Catalogue_2016_east ENG_bizt.indd 68
18/01/16 14:39