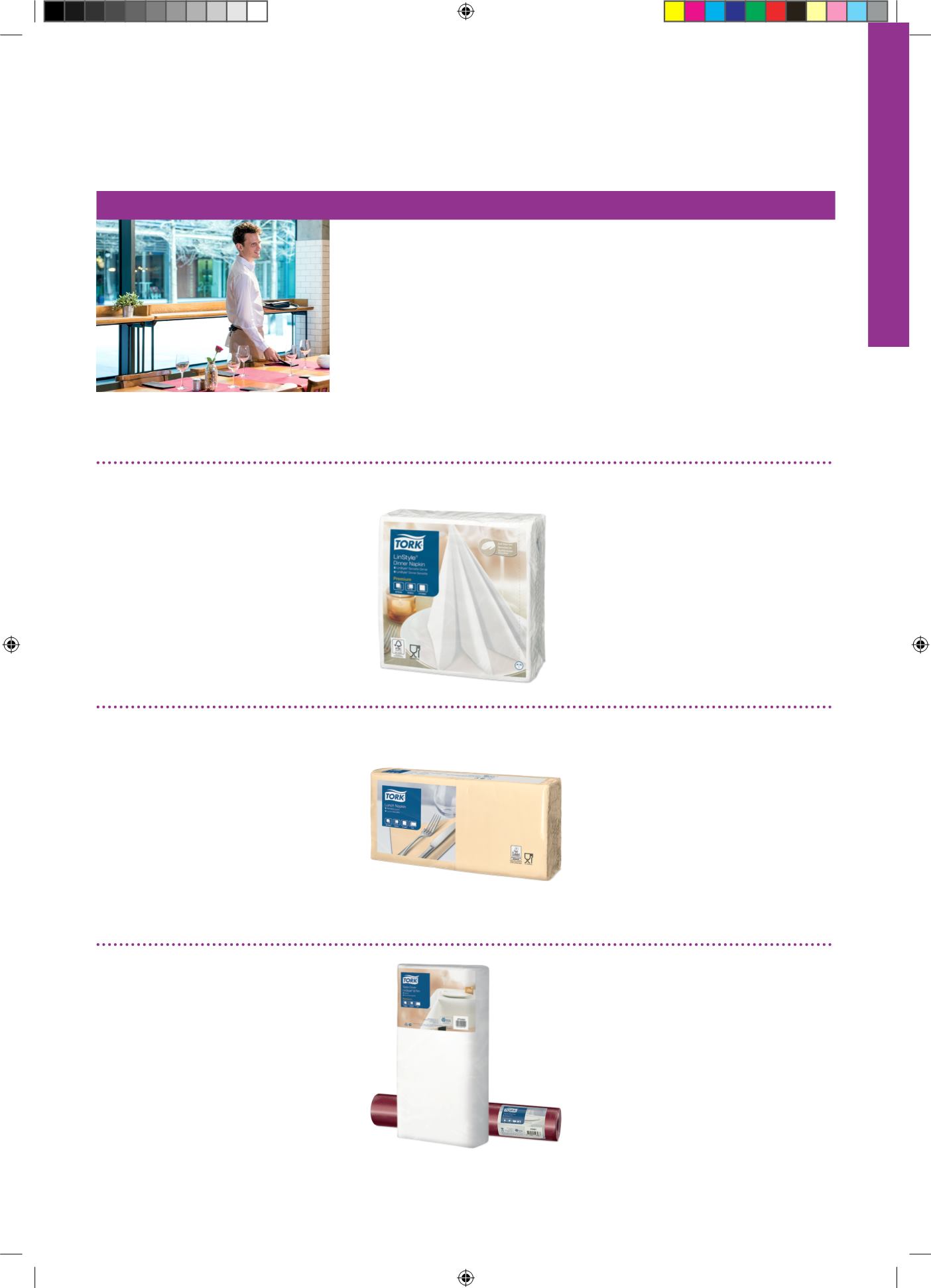 69
Tabletop
Supporting the guest experience
We know our customers want to create a special
experience, whenever they welcome their guests. That's
why we've developed specialist napkins that work hard
around the clock – whether it's lunch, dinner, or cocktail
hour. With a range of colors, decors, qualities and formats,
you can be confident we've got everything covered.
Tork LinStyle
®
Range
- High quality, single-use napkins
- Luxurious textile look and feel
- Comes in a range of contemporary and
classic colors
Linstyle – fine dining
Ideal for when you want to give the
impression of linen quality but prefer
single use napkins.
Tableware – fine and casual dining
Make the difference in your guest
experience with quick turnaround
on table settings.
Choose from our range of
coordinating tableware in a range
of colors and patterns: Placemats,
Table runners, Slipcover, Table
cover rolls, Coasters and Cutlery
bags.
Tableware
- Easy and hygienic way to improve your
table setting
- Comes in a range of sizes and qualities
- Custom print option
Full-service
Tissue napkins – casual dining
Depending on the occasion,
simply choose the quality needed,
as well as the format, color and
fold. Tork napkins will meet all
needs and support creating a
special experience for guest,
bringing comfort and color touch in
restaurants.
Dinner, lunch and cocktail tissue napkins
- Textured Dinner napkins for thick
absorbent quality
- Tissue multiply napkins, high quality and
absorbent,wide range available
- Tissue one ply napkins, for basic
napkin needs
Tork_Product_Catalogue_2016_east ENG_bizt.indd 69
18/01/16 14:39