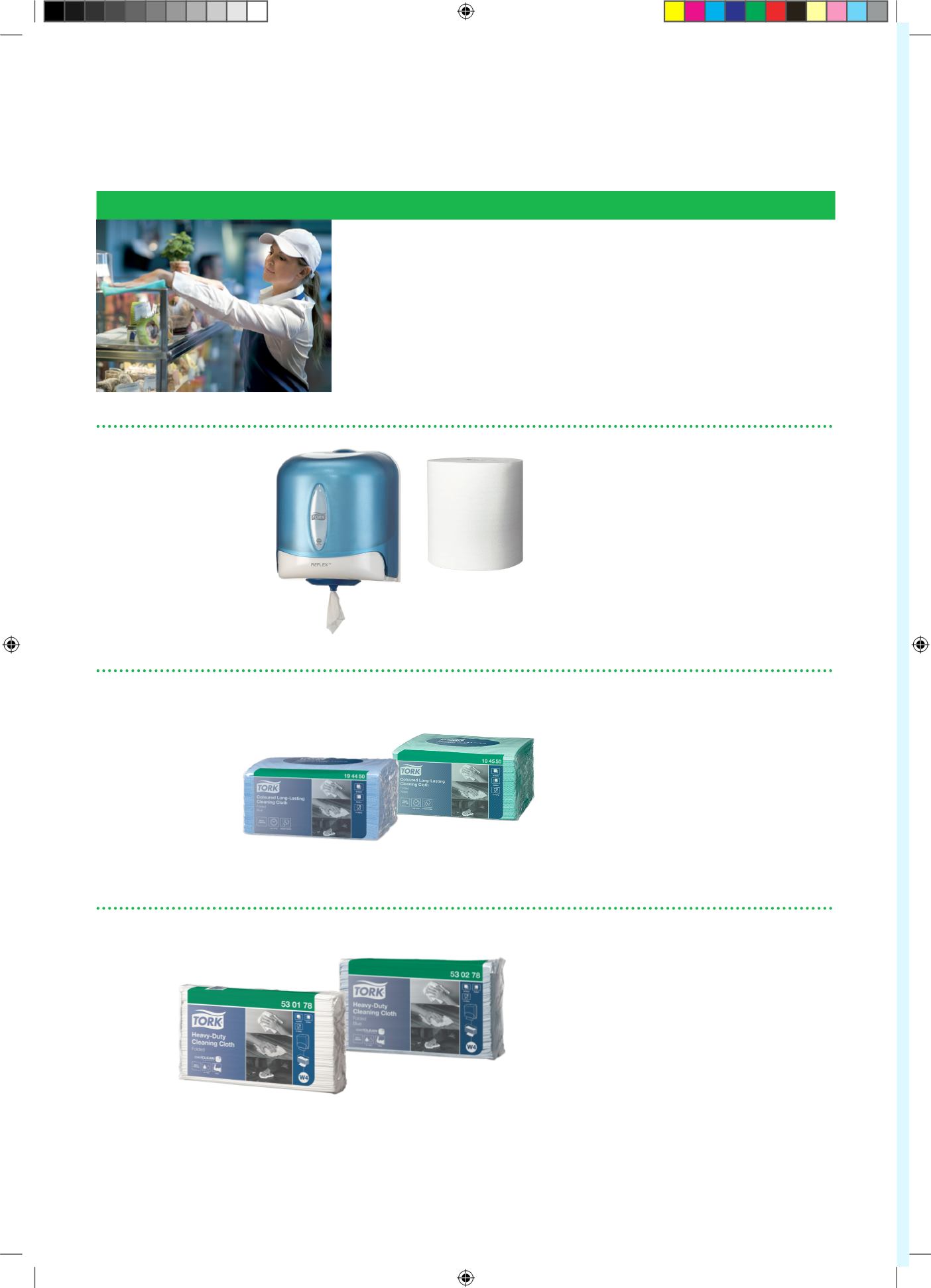 52
Wiping and cleaning
Diverse tasks demand flexible solutions
We understand the high-tempo nature of working
in a modern restaurant or catering facility.
Wiping and cleaning tasks can involve everything from
degreasing hobs, grills and working surfaces, to cleaning
dining areas, service counters and other areas that guests
and staff come in contact with.
Tork Heavy-Duty Cleaning Cloth
A strong and absorbent multipurpose cloth
that works with most solvents. It has a high
absorption capacity for both water and oil,
and cleans more efficiently thanks to the
exelCLEAN
™
effect.
- Protects hands from heat/metals
- Strong enough for tough scrubbing
- Food-contact-approved
Back of house – wiping
Front of house – cleaning
Back of house – cleaning
Tork Reflex
™
Wiping System :
- Reduces wiping usage by up to 37%*
compared to traditional centerfeed
dispenser
- Ideal for use in food preparation area
- Avoids cross contamination by touching
only the paper used
- All Reflex rolls are food contact approved
* Statistic from internal research conducted over a 4 weeks
period. Tork Reflex
™
Wiping Paper Plus against freeflow
Tork Wiping Paper Plus. Reduction calculated in square
meters used.
Tork Colored Long-Lasting Cleaning Cloth
A low linting, flexible and drapable cloth that
works well with solvents, detergents and
disinfectants.
- Multipurpose – handles most cleaning
tasks
- Food-contact-approved
Hotels, restaurants and catering
All papers and cloths are available in different systems,
floor and wall dispensers to meet your specific needs.
Tork_Product_Catalogue_2016_east ENG_bizt.indd 52
18/01/16 14:38