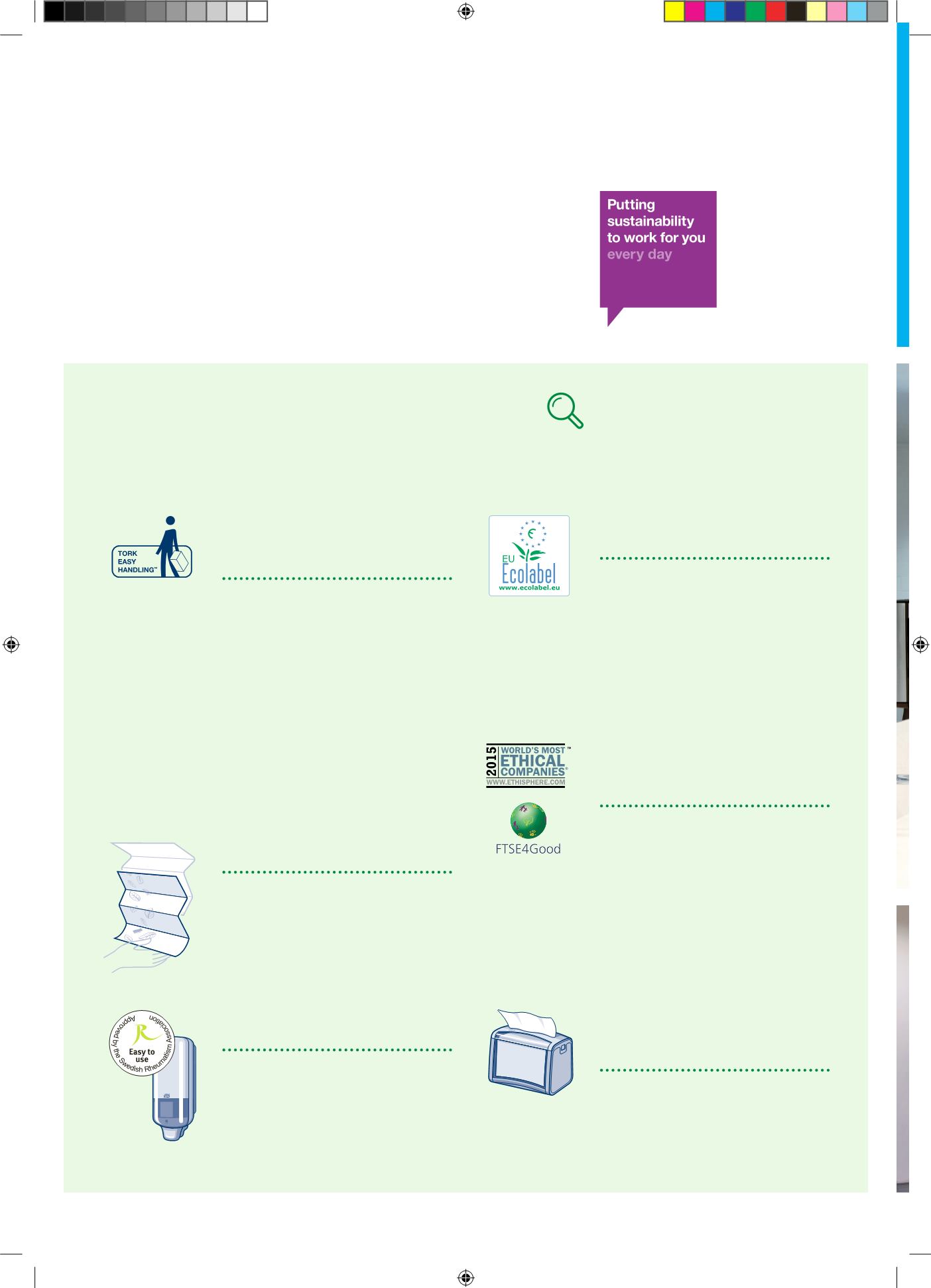 6
Our sustainability approach
Creating value through sustainability
For Tork, sustainability is about more than the
environment. It's about delivering practical benefits
for people and adding value to your business,
every day. Tork makes sustainability work for you.
Our approach is about benefiting people by improving
hygiene and ease of life and benefiting nature, through
reducing environmental impact across the product
lifecycle. It all adds up to greater value, by helping you
use less, waste less, and achieve lower costs.
Save time and effort with
packaging that's easier
to handle
Tork Easy Handling
™
packaging is
designed to make handling easier
for everyone. The smart design
means that:
- Boxes are easy to carry, thanks
to convenient, comfortable grips
- Boxes are easy to open without
a knife, thanks to taped sealing
- Carry bags are easier to hold,
thanks to convenient handles
- Used, flattened boxes are easy
to carry in large numbers
Reduce consumption with
dispensing systems that
control use
Using Tork Xpressnap
®
system
reduces napkin usage by at least
25% compared with traditional napkin
dispensers, cutting consumption
and waste.
Read the SCA
Sustainability Report
at
sca.com/sustainability
Making skincare
accessible to all
Tork skincare dispensers are easy to
use for everyone, even for people with
reduced hand strength such as the
elderly and children.
Save time with easy
product choices
75% of Tork products in EU carry
a recognized third party Eco-label.
You can select Tork products with
confidence, knowing that they meet
high environmental standards set by
an independent organization.
Responsibly produced
paper products from a
sustainable company
SCA, the maker of Tork, has
environmental management
accreditations such as ISO 14001
in 85% of its tissue production
plants. SCA is recognized by many
external indices and rankings as a
sustainable company.
Reduce waste and usage
High quality paper towels absorb
more moisture quickly so you use less
and waste less.
Tork_Product_Catalogue_2016_east ENG_bizt.indd 6
18/01/16 14:38